Do finance professionals play a vital part in the success of team performance within a business scenario? asks Stuart Blyth.
This article aims to establish whether the 'age-old myth' of the finance professional being merely a provider of financial information to an organisation and nothing more is still relevant in today's business world.
In my book, From Pitch to Boardroom: the Principles of Team Excellence from the World's Most Popular Game, I espouse a philosophy which recommends that businesses adopt a 'dream team' attitude to business teams in order to emulate the high-performing teams evident within the sporting world.
When looking at our dream team philosophy, I identify that for each business task or project, there needs to be a clear identification of pivotal roles that need to be filled during the exercise. In doing so it is important to understand how vital the role of the finance professional is when included in these team tasks or objectives.
So what does make the dream team?
In my view, and also that of world-class professional sports coaches and business gurus, it is all about getting:
the right player
in the right position
with the right to focus
assisted and mentored by a visionary manager and/or coach who knows how to get the best out of their team.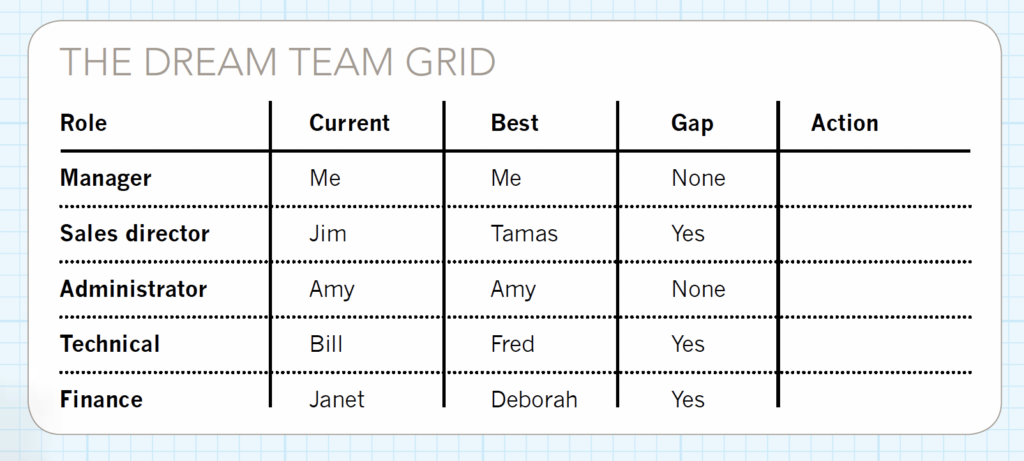 When looking at my own dream team grid (above), I am seeking to find the best, most balanced team that I can, based on the skills that an individual will bring to the task. The finance professional clearly has a role, here, and can assist the team leader in making more considered selections.
So what does make the dream team?
Having selected the team that will work on the task, what is the correct role of the finance professional? What is the right position for them to play in any given task? For many, they see themselves as that visionary manager and/or coach, who knows how to get the best out of their team.
While this may be true when managing a team of finance professionals, how true is this when working in a multi-disciplined team?
Finance professionals need to use all their skills and training to fully assess the role they should be fulfilling within that task. There is no doubt that and finance professional has the ability to analyse and critique known facts, but how many of them can also be seen as creative and innovative thinkers?
When looking at creating the ultimate dream team, one should take into account the vital roles that need to be in place for the task to be a success. Consider if you were to construct the team sheet for an English Premier League soccer match, you would not create a team of only centre-forwards; therefore, why do a significant number of businesses create unbalanced teams that reflect this selection procedure?
One vital role that finance professionals can play in helping the selection of team members is to use their ability to analyse hard facts and data, and create invaluable input from an objective standpoint as to who may potentially be the right players for this exercise.
Yet how many of them can be seen to be the inspiration for the team and its overall performance?
We live and work in a world where we interact daily on a real and virtual basis with many individuals. These individuals or other team members can be in the same room as us, or on the other side of the world, and can also be from a totally different culture to that in which we ourselves were brought up. This is exciting: we know that being included in a multi-disciplined and multicultural team gives us the opportunity to work with other professionals who bring diverse skills and a different style of critical thinking to any exercise. This is a great learning experience and an opportunity for personal growth – one that should be embraced and actively sought out.
In any given team exercise, be it in sport or in business, it is important for all the players to understand their role within the team. When assessing some fundamental principles of teamwork, it became evident to me that there are some key principles that assist in the ability of the team to drive towards team excellence over and above the dream-team selection process.
For the purpose of this article, I will look at just two of these principles and apply them to the finance professional's role within a team scenario.
I have in my work attempted to explode 'the myth of self-sufficiency'. What I mean by this is that, given the complexities and the demands of business teams, it is impossible for any one member of the team to believe that they are solely responsible for the success or otherwise of a task.
In working through this theory, it is obvious that everybody within a team exercise has a vital role to play. It may well be that individuals will have primary responsibility for part of the activities while being supported by the others in the team, and at other times these players will be playing secondary roles.
Consider the various teams that you are currently working with and assess with a critical eye whether you are playing a primary or secondary role in the team activity, or whether the role that you are playing varies given the particular situation that the team is in.
Clearly it is desirable that, as a finance professional, you consider how you can be more effective in the team activity. Taking a traditional approach to your role may hinder the success or otherwise of the team activity.
When thinking about your role, try to answer the following questions:
How vital is the role that you're playing?
Could you be doing more to support the team?
Could you be leading the team in a more positive manner?

These questions need to be considered not only for the finance professional with regard to the importance of their role within the team activity, but also from the team members' point of view.
Given the analytical ability and the training that most finance professionals have amassed, perhaps there is a case to be made that they can be more inspirational when leading, mentoring and coaching the team to success, rather than the view held in many circles of being merely a financial person relying on historical data.
I turn now to my second topic: the measurement of success or otherwise in any team activity.
Finance professionals will tend to use hard, historical data to decide whether a particular activity has been successful or not. However, there are significant 'soft' issues and benefits that will also need to be taken into consideration when measuring success.
In most organisations, parties will be looking for an ROI measure of the success of any activity, and this is usually expressed in financial terms. While these measures are an extremely useful indicator of success, they do not necessarily give the whole picture.
A particular example of this would be when considering continuous learning, or learning and development expenditure. How would you measure the impact of this activity?
Measurements would be both quantitative and qualitative. While the HR/ learning and development team would have a financial budget to work within in order to deliver on their strategy, there are also some important qualitative factors that would have an impact on the success or otherwise of this activity.
A motivated, well trained and cared for employee gives more back to the company than just pure financial benefits – meanwhile an unmotivated, poorly trained and poorly cared for employee gives less and costs the company more, both in financial and other terms.
For example, what is the cost of replacing an employee who the company might want to have kept, but who leaves because of lack of motivation?
The cost is not only the fees payable to replace that person but the other non-tangible costs of time, disruption and loss of productivity, to name just three. Therefore expenditure in this area is an investment rather than a cost to the business.
Therefore when measuring the success or otherwise of an activity, the finance professional has a crucial role to play in helping the other team members to appreciate and evaluate all of the different measures that need to be considered.
The modern-day finance professional needs to be more involved in the projects and tasks that a company undertakes. They need to take on a much more advisory role, and be a mentor to other team members rather than merely reporting historical fact. ■